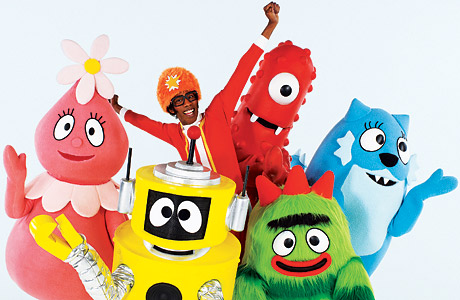 Ok, listen up everyone! If you are a Yo Gabba Gabba fan or one of my readers, you should now know that they are running a Cool Tricks Contest. Of course I immediately entered Lyla doing her Spoon Trick! She was actually in 1st place for a while. Now she's in 4th!!! WTF!
ANYWAY, I want to give you guys a chance to win tickets to the Gabba concert here in Philly on August 29th. How you ask? Ok, I'll tell you...
We already have tickets, I've only been bragging about it for months now. As I said before we got her the VIP package for her birthday, which is TODAY!! Woo-Hoo!! Ok, back to the point, so the contest winner will receive 4 tickets vip style to the show plus other goodies. One of them that interests me the most is the winner's video will be played at the show for all to see! Winning the tickets won't make difference to me because I already bought them. But I would love to see her face watching her video on the big screen. It would be PRICELESS!
SOOO if Lyla's video wins the contest I will have the tickets to give away to someone who really wants/needs them!
Here's what you can do: VOTE FOR LYLA!! Get on the Team Lyla bandwagon! You can vote every 24 hours! Every time you vote, leave me a comment below telling me you voted. Please include your Name & Email Address. You can increase your chance to win by telling ALL of your friends & family to vote as well. If they're not interested in the tickets themselves, they can still vote for Lyla and nominate YOU as the winner.
EXAMPLE: If "PERSON A" have kids and want to win the tickets and have voted already, any of their peoples can vote and leave a comment below telling me they voted for Lyla and are nominating "PERSON A" to win the tickets!
I will randomly select a winner! So the more times you vote and the more people you get to vote too and nominate you, the more chances you have of winning.
By Lyla winning you are too! So remember, Lyla MUST win for the Philly area! They are having many winners, one for each city they are touring in. So let's represent Philly! The concert is this Sunday, and I believe the contest for (Philly) will end on Friday. IF Lyla's video win, we will give out the tickets to one lucky Lyla's voter!
It's so quick and easy. All you have to do is click
HERE
to vote!
So spread the word.
Also, there is another video on there of a little boy, Alex, doing the belly roll. He is so adorable and it's his 3rd birthday tomorrow. They are trying to win for the California show! Please show him some love and vote for him too
HERE
!
THANK YOU TO EVERYONE WHO HAS VOTED SO FAR AND ARE REPOSTING ON FACEBOOK AND TWITTER. LYLA IS ALMOST AT 600 VIEWS ON YOUTUBE IN A MATTER OF DAYS!!
Love,
Natalie